Stephen Le Couilliard & Associates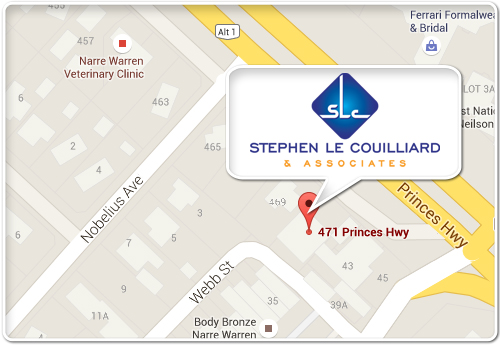 Public Accountants
A.B.N. 98498490778

Address:
471 Princess Hwy
Narre Warren Vic 3805

Phone: (03) 9704 7661 / (03) 9704 8974
Fax: (03) 9796 6711

Email: stephen@bestaccountants.com.au
We are conveniently located at 471 Princes Hwy, Narre Warren which is a stroll from the Narre Warren train station and is easily accessible by public transport.
The office is at the intersection of Webb Street located in the service lane of the Princes Hwy (Next to the Ming Court Chinese Restaurant), driving to our office is very easy, whichever direction you may be coming from.
Free on-site car parking is available to our clients and guests whenever they need to attend our office.